Product Description
The distance between the mounting holes, center to center of each hole is 2 5/8 inches.
If you need a bracket that has hole center measurements

of 2 1/4 or 2 1/2

or 2 7/8....please check out our store we have those as well.
We are also able to drill and tap any distance you may need, just contact us.
This improved aluminum bracket is the ultimate way to mount or position your 2.0lb or 2.5lb NOS bottle!
Many companies copied our original design so much that we decided to redesign and improved upon our original bottle bracket making it far superior than ever before.
With improvements in clamping technology, the bracket has been redesigned to increase clamping force and in the process we also improved the visual appeal of the bracket making this one of the best Nitrous Oxide bottle brackets money can buy.
Our Nitorus Oxide brackets are precision CNC machined from solid billet 6061 T-6 aluminum for high strength, lightweight and great looks.
The Spencer Cycle NOS Bottle Bracket will fit 2.0 and or 2.5lb Bottles with a diameter of 4.375 inches. It can be welded on or bolted onto a support brace and has pre-drilled and tapped for 1/4-20 holes for bolts.
Finish is a durable black powdercoated finish.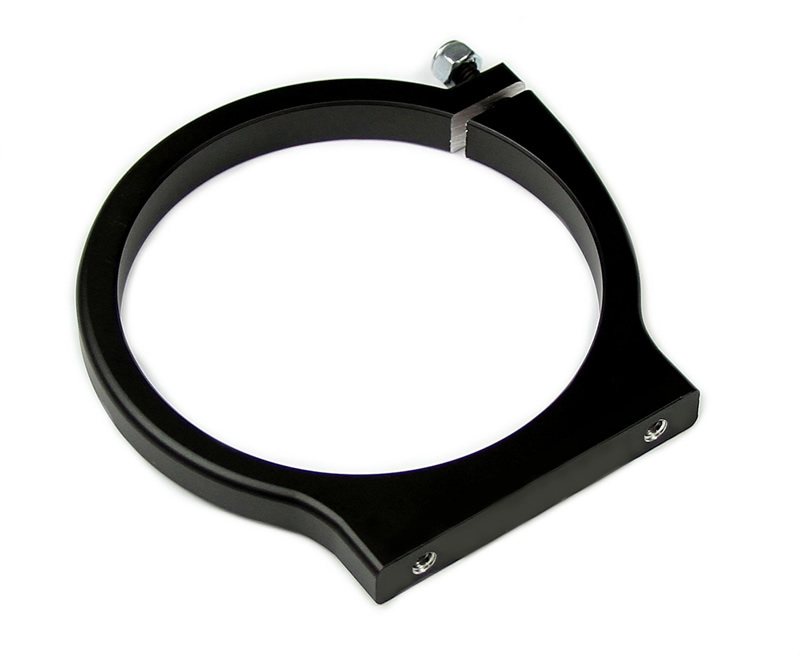 Our bracket is supplied with a tough nylon insert lock nut that is designed to not work loose under use and has plenty of grip travel.

All our improvements eliminate the issues many other brackets have from other manufacturers that seem to tighten down but the bottle is not secure as it should be which increases the chances that the bottle may not be securely fastened to prevent movement.

Put plainly our bracket clamps securely around the bottle and you will not lose the nut and it will tighten around the bottle securely.

The distance between the mounting holes, center to center of each hole is 2 1/2 inches. This fits some arms on market today. You need to measure your arm mounting tabs to make sure what the distance is on the mounting holes .Bottle bracket thickness is 1/2 inch (.500).

Please Note: Bottle brackets are for positioning the bottle only. They are not intended to hold the weight of the bottle. A small support bracket under the bottle is required to support the bottle weight.
Other Details
Carries a 90 day no hassle workmanship and manufacturing defect warranty
Product Videos
Custom Field
Product Reviews