Product Description
The Shinko Stealth features a Slick/Dimple design, great for production and drag racing, and serious sport riding. Manufactured using a soft compound for rapid warm up.
They give racing slick like performance at the strip. Kevlar belts enhance high speed performance. DOT approved. W-rated for speeds up to 168 mph. Available in a soft or ultra-soft compounds.

The tire of choice for long tread life and very good traction. A matching tread for the rear Shinko tires.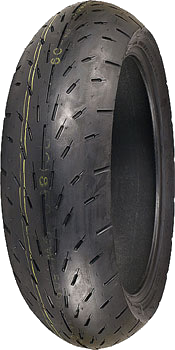 Slick dimple design is great for production, drag racing, and serious sport riding
Soft compound for rapid warm up that gives slick like performance
W speed rated 168 mph
Aramid belted
DOT approved
Ultra-soft compound also available
Product Videos
Custom Field
Product Reviews